Karen Briggs
Director of Hip Research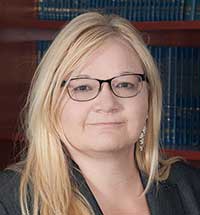 Karen has been with the Institute since 1993 and served as Director of Clinical Research 1994 to 2016.
Karen, a Colorado native, received her undergraduate degree from Colorado State University in Microbiology and Chemistry. She then went to work at the University of Colorado Health Sciences Center/University of Colorado Medical School in Denver. Karen received her Masters Degree in Business Administration from the University of Colorado at Denver in 1992 and a Masters in Public Health from the University of Northern Colorado in 2003. Karen developed the Patient Outcome Research Database in 1993, which now contains over 30,000 surgeries.
In 2016, Karen decided to focus her research on the hip. She is now Director of Hip Research and coordinates all of Dr. Philippon's research. Karen has co-authored over 130 publications. In 2011, a paper she co-authored received a Certificate of Commendation for the Ten Top-Cited Articles Published in the Arthroscopy Journal, 2008-2011, and in 2012, a paper she co-authored was listed as one of the 25 most cited articles in Arthroscopic Orthopaedic Surgery. In an analysis of journal publication in the field of hip femoroacetabular impingement, Karen is ranked 5th out of 5471 authors who have contributed to the field of FAI research. Karen has presented research at the American Orthopaedic Society of Sports Medicine (AOSSM), the American Academy of Orthopaedic Surgeons (AAOS), the European Society of Sports Traumatology, Knee Surgery & Arthroscopy (ESSKA), the International Society of Hip Arthroscopy, International Cartilage Repair Society, International Society of Orthopaedic Surgery and Traumatology(SICOT) and the International Society of Arthroscopy, Knee Surgery and Orthopaedic Sports Medicine (ISAKOS). In addition to hip research, she often speaks on the benefits of outcomes research. Karen has been a co-author on numerous award-winning papers, including a Star Paper at the 2012 ESSKA, the Richard O'Connor Award at the 2012 Arthroscopy Association of North America Annual Meetin, and the Nicola Foundation's Young Researcher Award.
Karen resides in Gypsum where her family includes husband, Daryn and dogs Fiona and Angus.